Let's celebrate ten years of character rigging and animation in After Effects!
Ten years ago, the first public version of Duik was released. It was very simple. It was just a small panel with two buttons, with just the two features you need to rig legs (and arms): Inverse Kinematics, and what was called the IK goal.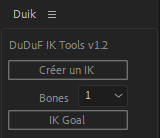 At that time, Dan Ebberts already found how to create IK in After Effects, but you had to add and edit expressions, it was a bit complex. Duik, one of the first script widely used in After Effects (we're talking about the time when Lloyd Alvarez was still building aescripts.com), made this process very easy, and from the start it was free. That was what made it very successfull.
Since then, nothing changed, except that Duik now includes a lot more features, and the After Effects community now knows what Character Rigging means.
Ten years ago, Duik brought to animators a new way to animate characters in 2 dimensions. Lots of wonderful films were made with this new technique. And it stayed free
We're going to celebrate this in Lille, France, march 29th and 30th!