We're very pleased to announce that the new online documentation for Duik (and other tools) is now available on duaef-docs.rainboxprod.coop!
Keep this link as it can be very useful!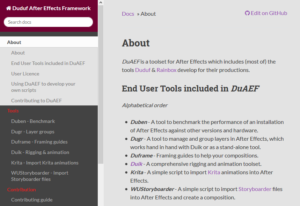 There is a direct link to the Duik user guide: http://duik-docs.rainboxprod.coop/
And another for the framework reference, for developpers: http://duaef-reference.rainboxprod.coop/
You can contribute to this documentation!
Actually, your help is very welcome, at least to proofread all of these documents.
The "More…" button in the help panel of Duik will redirect to this new documentation in the next update.
Thank you all for your invaluable support!